Tuesday 23rd September 2014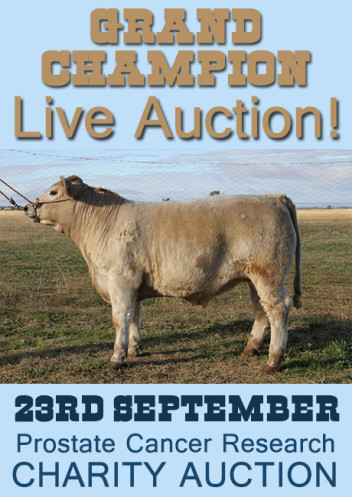 Grand Champion LIVE AUCTION!
Charity Luncheon for Prostate Cancer Research
The Breakfast Creek Hotel is proud to once again host the GRAND LED STEER CHARITY LUNCHEON on Tuesday 23rd September 2014.
With two successful LIVE auctions under their belt and over $46000 raised and donated to Charity in 2012 and 2013, the Breakfast Creek Hotel has again purchased the "Grand Champion Led Steer" from the Dubbo Show and hope to add to the fundraising tally.
The charity luncheon is kicked off with a LIVE AUCTION of a champion steer in front of the Hotel, with an expected crowd of over 250 guests at 12nooon. The Steer will be paraded through the Hotel from 11am with opportunity to inspect the champion Steer and have a photograph with him before the hammer goes down.
2014 is the live auction of "BRUCE", a 600kg infused Limousin Steer bred by the Kirk Family of Wilworril Limousin Stud, Rylstone. Bruce comes from prominent stock, is an exceptionally well muscled, soft steer with good temperament. Grain fed on the well known "Rocket fuel", Bruce was awarded Grand Champion Led Steer at the 2014 Dubbo show.
To celebrate the sale the Breakfast Creek Hotel will then host the very special LED STEER Charity Luncheon in the Spanish Garden Steakhouse as part of the ALH Group "Hotel Cares" initiative, supporting Prostate Cancer research for the Mater and P.A Foundation.
The Menu features Premium steak from the Royal Brisbane Show Champion Led Steer and the MS Charity Steer, and includes a donation to the Hotel Care Fundraiser.
Do your part and support Prostate Cancer Research with the Breakfast Creek Hotel on September 23rd. Tables are limited, bookings are essential on 3262 5988.
Tables are limited. Bookings are essential. Phone: 3262 5988
Tuesday 23rd September 2014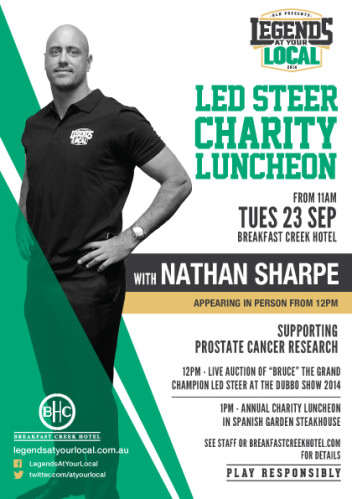 LED Steer Charity Luncheon
Legends At Your Local
Nathan Sharpe is one of Australia's most decorated rugby players. He has left an indelible impression on the game. His list of distinctions are many. He retired as Captain of his country becoming Australia's most capped forward with 116 tests and the second most capped player ever. His durability saw him become the most capped player in Super Rugby history with 154 games for the Queensland Reds and Western Force. Nathan played in three Rugby World Cup campaigns. In his final year of international rugby in 2012, he was awarded, for the second time, the prestigious John Eales Medal, for Wallaby Player of the Year. "Sharpie" will continue to be a popular and profiled member of the rugby community. He is respected worldwide for both his on-field efforts and engaging and affable off-field contributions. His presence on the field will be missed, but his legend will remain for years to come.
Nathan will be at the Breakfast creek from 12pm to support the live auction of "Bruce" the Grand Champion LED Steer. Come along, help support Prostate Cancer research and say hello to a legend.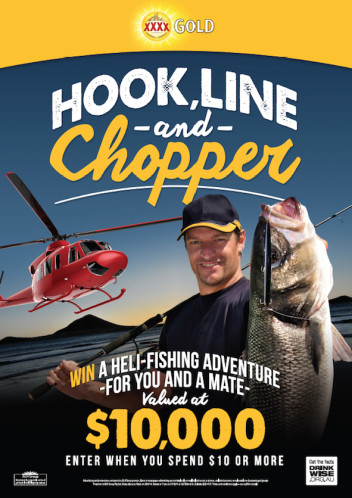 Hook, Line & Chopper
Win A XXXX Gold Heli-fishing adventure valued at $10,000
Flying by helicopter, you and a mate could be experiencing a once-in-a lifetime fishing expedition on the Aurukun Wetlands, Cape York.
You'll overnight aboard a charter vessel, have the services of an experienced guide and enjoy meals and refreshments throughout your stay.
Simply enter when you spend $10 or more across the bar.
The Promoter is ALH Group Pty Ltd, Level 1, 152 Oxford Street, Bulimba, 4171. The Promotion commences at 11am on 13/8/14 and ends at 10pm on 30/9/14. Drawn at 11am on 22/10/14 at the office of the Promoter. First valid entry drawn wins heli-fishing package valued at $10,000. Terms and conditions apply - see staff for details.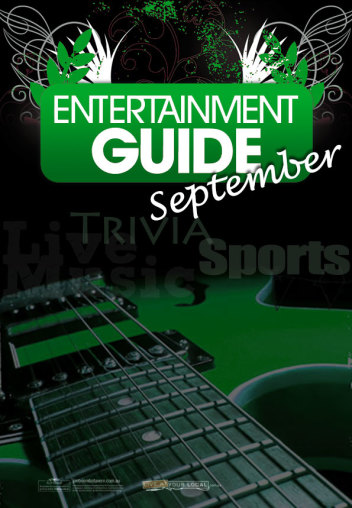 Live Entertainment - September
Come and enjoy our great live entertainment line up during September.
Friday
Tradmark spinning the decks every Friday night
Saturday
6th - Vote for Pedro
13th - two Way Street
20th - CFAM
27th - Tom Foolery
Sunday
7th - Stewart Fairhurst
14th - Green Sinatras
21st - Kim Sheehy & Co
28th - Vertigo
Available Thursday – Sunday only for a limited time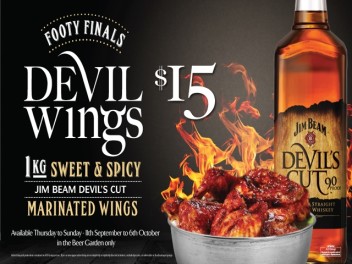 Footy Finals - Devil wings!
In the Beer garden
Celebrate your footy finals run at the Brekky Creek with our Devil wings!
Infused with Jim Beam's 'Devil's Cut' Bourbon these Sweet & Spicy wings will satisfy the heartiest of footy finals hunger!
1kg of Jim Beam's Devil's Cut Bourbon marinated wings for only $15
Available Thursday – Sunday only: 11th September 2014 – 6th October 2014 in the Beer Garden at the Breakfast Creek Hotel
Conditions apply. Not available in the Spanish Garden Steakhouse. Not available with any other offer. May not be available on public holidays. See staff for details.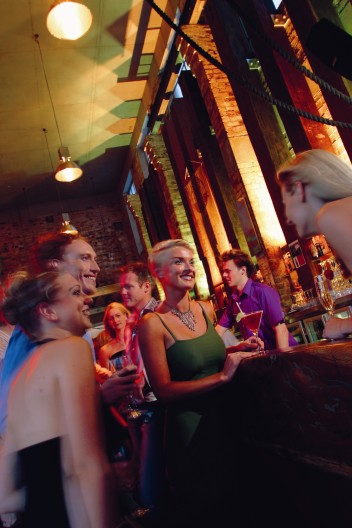 Fridays
Kick start your weekend in the Substation No 41 Bar. Boutique beers & crafty cocktails feature for the adventurous. Old favourites are prevalent though for those faithful to their drink of choice.
Entertainment - Enjoy all the latest hits from the 70's to now with Trademark spinning the decks.
Every Friday.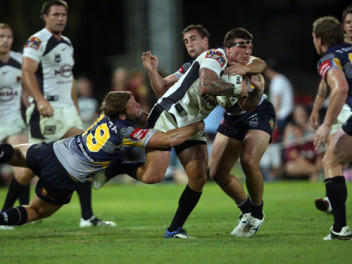 Sport @ The Creek
The ONLY way to watch the your favourite sport is on our BRAND NEW SONY SEVEN SQUARE METRE LED SCREEN in the staghorn Beer Garden – at 7sq Metres IT'S HUGE!
Can you think of a better way to watch the game you love - steak, beer and a massive screen that will make you feel as if you are inside all the action!
With a second large Plasma screen in freshly renovated Substation no.41 RUM BAR you and your friends can relax on the new decking and lounge area, adding a whole new meaning to footy with your mates.