Staghorn Beer Garden Dining
The Staghorn Garden is a Queensland institution, thanks to its relaxed, subtropical ambiance and lush landscaping. It boasts stunning timber decks which create an artful, soft separation between the food and bar businesses.
The entire area is light, bright and inviting, merging seamlessly with an eight metre high breezeway structure that links the heritage listed Hotel building to the Substation No.41 building.
An open kitchen and servery is situated on one side of the breezeway, where patrons are able to choose their own steak from the chilled cabinet, in classic Brekky Creek tradition.
The hotel is renowned for introducing Beer Garden style dining to Queensland. The Brekky Creek continues to hold this tradition proud as the Staghorn Beer Garden offers the very best in casual outdoor dining. The Staghorn Beer Garden boasts seating for over 500 people.
Spanish Garden Steakhouse
The Brekky Creek's signature steakhouse is where the tradition of superb steaks all began in 1968.
A traditional atmosphere and shady green alcoves, 'the Spanish' provides a perfect oasis on a hot summers day and is the ideal place to tuck into one of the Creek's famous steaks, washed down with a fulsome bottle of red.
The Spanish Garden Steakhouse is the essence of the Breakfast Creek Hotel experience, offering full table service of the highest quality. It offers a simple yet intimate style of dining that is perfect for business or pleasure.
'The Spanish' can seat up to 200 guests.
Creek Café
Coffee @ the Creek has exploded with the expansion of our Café. Perfect for a casual visit or a relaxing addition to your main meal. Enjoy a liqueur coffee or delicious dessert to compliment your lunch or dinner.
Award winning eye fillet steak pies, fresh daily sandwiches and aromatic Vittoria coffee. This is just the beginning of a delectable snack menu for those on the go.
Fantastic options to keep the kids happy on that lazy Sunday lunch. Friendly staff to create your coffee just the way you like it.
Located in the Staghorn Beer Garden, the Coffee Cart is easily accessed for that 9.30am coffee that is essential to all morning activities! There is a fantastic Light Meals menu that is available between regular kitchen service hours.
Meal Deals & Dining Specials
Starts Sat 4th April
Ends Mon 6th April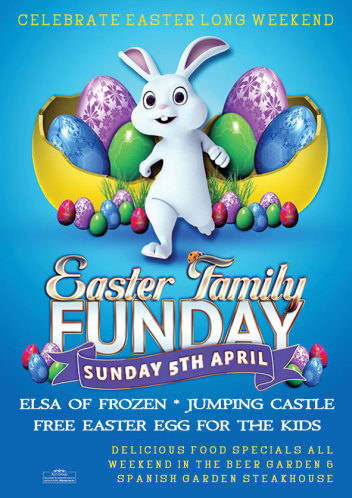 Easter Long Weekend
Hop on in for great specials!
Celebrate your Easter long weekend at the Breakfast Creek Hotel and enjoy delicious food specials all weekend!
Easter Sunday Family Fun Day - Sunday 5th April

LIVE Character Appearance from "Elsa" of FROZEN! 1pm - 2.30pm
Jumping Castle 12pm - 3pm on the Front Lawn
Free Easter Egg for all the Kids!
Food specials available 4th - 6th of April in the Beer Garden and Spanish Garden Steakhouse
A delicious Baked Salmon fillet topped with creamy garlic Prawns on a bed of Sweet Potato rosti and salad $30
Grass-fed Rib Fillet with a Bacon wrapped scallop skewer and hollandaise sauce $45
Conditions apply. See staff for details.
CLOSED Good Friday 3rd April
All Ages Event - Conditions may apply
Starts Sat 4th April
Ends Mon 6th April
Easter Long Weekend
Don't miss our Easter Long Weekend here at the Breakfast Creek Hotel. We have great dining with:
Baked Salmon with creamy garlic prawns, sweet potato rosti and salad - $30
Grass-fed Rib Fillet with bacon wrapped scallop skewer, topped with Hollandaise sauce - $45
Plus on Easter Sunday it's Family Fun Day with:
"Elsa" character from Frozen appearing 1pm - 2.30pm
Free chocolate eggs for the kids
Free Jumping castle 12pm - 3pm
Don't miss the Easter fun!
Conditions may apply. See staff for details.
All Ages Event - Conditions may apply
Monday Nights During NRL Season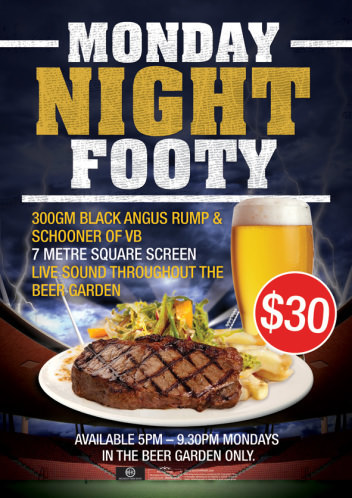 Monday Night Footy!
Score with this Steak special!
Watch all the LIVE NRL action on our 7 square metre LED screen in the Staghorn Beer Garden each Monday as you enjoy a 300gram Black Angus Rump and Schooner of VB for only $30. Live sound in the Beer Garden!
Available 5pm - 9.30pm Mondays during the NRL Rounds - Bookings 3262 5988.
Mondays during the NRL Rounds - 5pm to 9.30pm in the Beer Garden only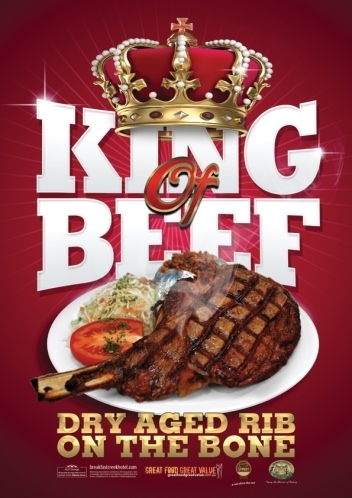 King of Beef
Dry Aged rib on the Bone
Dry Aged Beef
Over 40 years ago most of our beef was dry aged, as this was the natural way to enhance the flavour and the tenderness of beef. The process of dry ageing begins with premium quality meat with a good fat cover and involves hanging the meat in sterile cold rooms with carefully controlled air flow, humidity and temperature for up to 9 weeks. During the ageing process, enzymes break down the muscle fibres, this improves tenderness, intensifies the flavour, resulting in the meat being positively buttery in texture and flavour. The flavour is best described as robust, rich, nutty and beefy.
1-15 days In the first 15 days the beef starts to form a crust on the outside which locks in the flavour.
16–30 days The ageing process is well under way with the enzymes breaking down the muscle fibres and the crust on the beef is now discoloured slightly.
31-45 days The outer crust of the beef is a lot dryer and distinctly more discoloured; at this stage of the process the inside of the meat is reaching its optimum flavour and tenderness.
46-60 days Flavour has intensified and the tenderness is maximised. The outer crust is then fully trimmed and cut into steaks ready for the customer to enjoy.
Further conditions may apply. Please ask venue staff for details.
Grass Fed Beef
Over the last 12 months there has been a growing trend for steakhouses and high end restaurants in Australia to re-introduce Grass-fed Beef to their menus. Until recently the predominant source of steak in Australia has been from grain finished cattle, finished from between 30 – 100days on a mix of grain bends and/or corn based feeds. The reintroduction is adding a unique element to menus that is both high in health benefits and offers a new and cleaner flavour to the traditional serve.
The way cattle are fed can have a major effect on the nutrient composition of the beef. This is particularly evident when it comes to the fatty acid composition. Grass-fed usually contains less total fat than grain-fed beef, which means that gram for gram, grass-fed beef contains fewer calories.
The composition of the fatty acids is vastly different, which is where grass-fed really shines:
Saturated and monounsaturated:* Grass-fed beef has either similar, or slightly less, saturated and monounsaturated fats.
Omega-6 Polyunsaturated Fats: Grass-fed and grain-fed beef contain very similar amounts of Omega-6 fatty acids.
Omega-3s: This is where grass-fed really makes a major difference, containing up to 5 times as much Omega-3
Conjugated Linoleic Acid (CLA): Grass-fed beef contains about twice as much CLA as grain-fed beef. This fatty acid is associated with reduced body fat and some other beneficial effects
Popularity of the paleo diet has steered many enthusiast away from Australian Beef, but with the return of the Grass-fed option many consumers can again enjoy the high protein steaks but not compromise the paleo diet.
The Breakfast Creek Hotel is arguably one of the most famous and popular Steakhouses in Queensland and certainly knows a thing or two about Beef. The Grass-fed steak was a regular feature on the menu until the mid 2000's when drought heavily impacted on the supply of premium quality grass-fed steak and it was replaced with Grain-fed steaks. With the development of the Dry-Aging Cabinet in the Spanish Garden Steakhouse the Brekky Creek was able to monitor the quality and slowly bring the Grass-fed option back to the forefront of the menu. Now serving three cuts of grass-fed steak – the Dry aged *Rib on the Bone* and now the *Rib Fillet *and* Rump steak* the Brekky Creek is proud to offer both varieties. The Brekky Creek sources their Grass-fed steaks from the Mandalong Station in Northern NSW. As family owned and operated farms, the Cattle are raised on native and improved pastures namely Kikuyu, Rhodes and paspalum grass without the assistance of Hormonal Growth Promotion. A combination of breed, pastures and excellent stock handling makes for a flavour and tenderness profile in Mandalong Station Beef that is exception.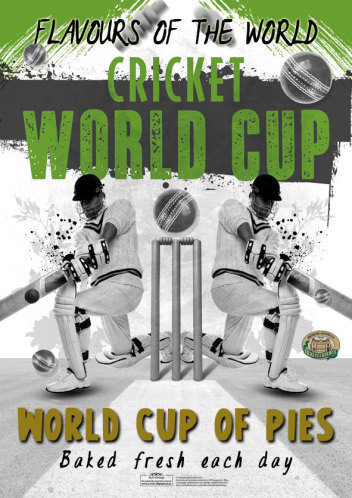 World Cup of Pies
Flavours of the World Cup Cricket!
Celebrate the 2015 World Cup Cricket Series with a feature 'Pie of the Week' from participating countries each week in the Creek Cafe Coffee Cart at the Breakfast Creek Hotel.
WEEK 1 - Sri Lankan Chicken
WEEK 2 - ENGLISH - Lancashire Hot Pot
WEEK 3 - IRISH - Guinness
WEEK 4 - INDIAN - Butter Chicken
WEEK 5 - NEW ZEALAND - Lamb & Kumera
Baked fresh each day and available from 9.30am until stocks is "run out".
Conditions apply. From 9.30am until stocks run out. Not available with any other offer. See staff for details.
Available in the Beer Garden & Spanish Garden Steakhouse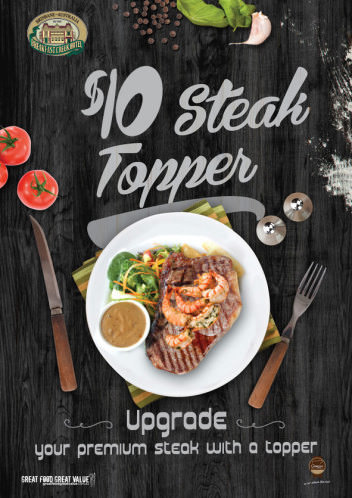 Steak Toppers!
Add more to your meal!
Here at the Creek we go BIG or we go home!
Upgrade your premium steak with a topper of your choice from only $10!
5 x Panko Calamari - $10
4 x Creamy Garlic Prawns - $10
OR add a Full Moreton Bay Bug in Creamy Garlic Sauce for $15
Available in the Beer Garden and Spanish Garden Steakhouse. Top that!
For bookings phone 3262 5988.
Conditions apply. Not available with any other offer. May not be available on public holidays. See staff for details.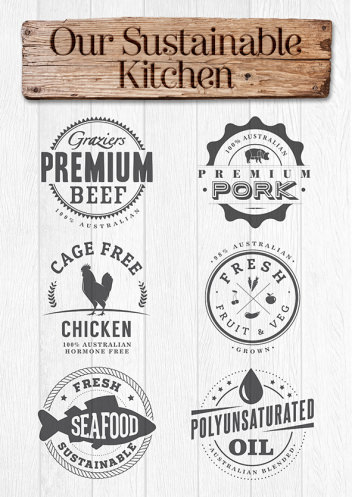 Our Sustainable Kitchen
We have made a commitment to serve:
100% Australian beef which is fresh and chilled, never frozen
100% Australian chicken, hormone and antibiotic free, fresh and from cage-free farms
100% Australian fresh seafood from sustainable fish stocks
Sow Stall free pork that is also hormone and antibiotic free
98% Australian grown fresh fruit and vegetables
We are passionate about food and how it arrives on your plate.